INNOVATE.
INSPIRE.

IMAGINE.
"Paving the way to the stars requires new innovations to support space health, inspiring student projects, and imagining the future." MJ Marggraff
My mission:  "I am committed to advancing the success of human spaceflight by supporting astronauts' space health, leading student experiments on the space station, and participating in future space travel."
SunSpot™: the first Social Support AI Agent for Space
Astronauts will return to the Moon–then to Mars. Space conditions are referred to as ICE: isolated, confined, and extreme. NASA has identified the risks to astronauts' space health who are exposed to these conditions on long-duration flights. 
My research study as a doctoral student at the University of Southern California focused on how to apply new tools to support space health when isolated. As a part of the study, a new innovation concept was proposed called 'SunSpot': a unique countermeasure to provide social support by increasing astronauts' feelings of connectedness with their families and friends when separated by extended space missions.  
READ MORE
As a co-founder of Kinoo, a Silicon Valley startup, I am leading the investigation of this new countermeasure to minimize the effect of isolation on astronauts' space health that also has applications to our social isolation in families on earth. We are testing a novel approach to video chat that can be used in a synchronous or asynchronous exchanges. 
The project is in early development stage, and we are looking for interested partners to help us test the new product. The Kodii team is comprised of award-winning developers and successful entrepreneurs of interactive and educational products.
GravityGames®: the first game event made for STEM students on earth who have created a product for astronauts aboard the International Space Station (ISS). Students' designs solve problems that use the ISS cutting-edge 0G-3D printer by Made-In-Space.
READ MORE
The challenge is for students to understand a problem posed and design a game or product that astronauts manufacture using the printer; then astronauts test the product's usefulness.
As a pilot and flight instructor, the sky is a deeply personal place for me. There is no better way to see the Earth than flying above it solo like a bird, where the air is cool and clean, where few have ever been, and even fewer truly seeing: Flying has changed my perspective and love not only our planet for the opportunity of wings to give me wonder.
READ MORE
Seeing Earth from on high, I imagine going higher still: How will that yet again make perspective new and wondrous?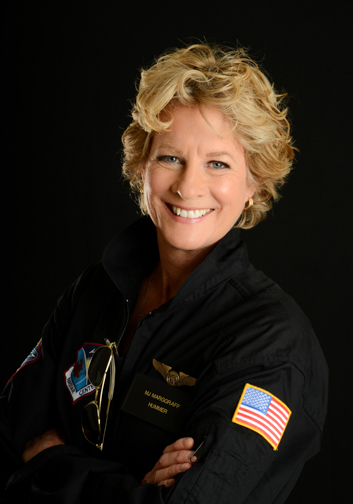 MJ Marggraff is a commercial pilot, author, and a project leader who has created a unique and new space experiment which is currently on the International Space Station.
Twelve years ago she would not have listed these things about herself; but that was before making a major course correction and adding something new to her calendar —Flight School— that changed her life completely.
Her book, Finding the Wow – How Dreams Take Flight at Midlife (Big Table Publishing, Boston: ISBN: 978-0-9886191-9-7), tells how, at age 45 and while an at-home mom of two young children, she decided to follow her childhood dreams, overcome her fears, and learn to fly.  Medal Winner of the Independent Publisher Book Awards in 2017. Available on Amazon.
IS CONNECTEDNESS NEEDED ONLY FOR SPACE?
The Kinoo team of developmental and technical specialists knows that the need for connectedness is increasing to critical levels and one of today's most important health concerns. Early tests show that Kinoo's new AI Social Agent will offer a breakthrough to the ways we connect with–not just contact–each other.
CAN MEANINGFUL ENGAGEMENTS AND CONNECTEDNESS BETWEEN FAMILY MEMBERS BE CREATED WITH AI?
Emails, phone calls, texts, and instant snaps are contacts–not connections. Kinoo, a start-up company, understands what is missing such as feelings of belonging, empathy, compassion, and reciprocity between those who care about each other. That is why we're pioneering SunSpot: the first Social Agent for space with intelligent video chat.
HOW CAN WE MINIMIZE RISKS OF ISOLATION & CONFINEMENT?
Space is characterized by hazardous conditions called 'ICE': isolated, confined, and extreme. The risk of long episodes of isolation on astronauts' health and performance is far reaching, with negative impacts possible in psycho-social interactions with family and friends, cognition, crew relationships, sleep, and task performance. Reducing this risk is critical: An innovative Social Support AI Agent for Space was proposed in a recent research study; the AI called 'SunSpot' shows potential to provide better connectedness between astronauts and close social support members. SunSpot is in the early stages of development.
A New Virtual Platform Will Beam Us Together to Share Innovations and Conversations I will be among the speakers at AIAA's ASCEND under 'Different Missions – Shared Space.'  Our startup, Kinoo, will share our breakthrough innovation my team and I have created – a...
To imagine, inspire and connect STEM to Space.
GravityGames is a new STEM innovation for students (9th-12th grade) to promote the understanding of zero-gravity, space manufacturing and astronaut life on the International Space Station.
LEARN MORE