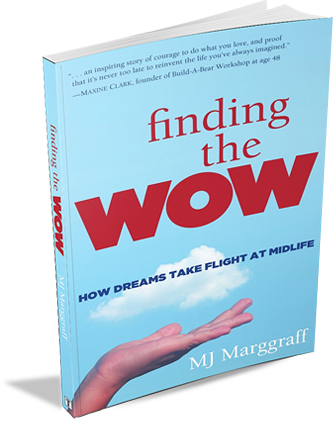 Finding the Wow
How Dreams Take Flight at Midlife
When I lost my day planner it awakened a journey that had long been suppressed. I realized that I had the opportunity to recreate my life. Fast forward: I'm now a commercial pilot, a project leader for an experiment aboard the International Space Station, and an educator. I am not unique. You too can create the life of your dreams!
Are you going through your life on autopilot? Do you find yourself doing the day-to-day things that need to be done but not doing what your heart is telling you to do? If you've put your life—or your dreams—on hold, it's time to release the lever … and go full throttle!
Finding the Wow: How Dreams Take Flight at Midlife (Big Table Publishing, Boston – ISBN:978-0-9886191-9-7) is the uplifting story of a mom who realizes that she's not happy, just busy. When MJ Marggraff and her friends —the Chicks in Charge— fight to redefine their lives, they discover their strength as they face a failing marriage, long-forgotten dreams, and illness. On these pages, you will find tales of humor, tragedy, excitement, disappointment, compassion, friendship, courage, obstacles faced and overcome, and success.
Be inspired to move in the direction of your dreams. As MJ often says, "Whatever your airplane is, fly it!"
"This is the perfect book if you're willing to ask yourself: 'Shall I take a chance and follow my dream?' And you want the answer to be 'Yes!' An inspiring story of courage to do what you love, and proof that it's never too late to reinvent the life you've always imagined."
— Maxine Clark, founder of Build-A-Bear Workshop at age 48
"If you've ever stuffed your dreams in a closet, read Finding the Wow: How Dreams Take Flight at Midlife. You will be inspired by this amazing story of how a determined mom soars to new heights and makes her dreams come true."
— Randy Peyser, author of Crappy to Happy and The Power of Miracle Thinking
"Do you find yourself stuck in the routine of life? At midlife, MJ shares the craziness, hard work, setbacks, and glories of finding her WOW. MJ's journey to live her WOW will inspire you to find your own!"
— Laura Smith, airline pilot
MJ Marggraff followed her lifelong dream—the dream she left behind—and, at the age of 45, decided to learn to fly. Overcoming the challenges of aviation's male-dominated profession, and the raised eyebrows of many naysayers, this mother of two became a commercial pilot and then a flight instructor. Propelled by her passion even further, she created "Gravity Games," leading student inventions conducted aboard the International Space Station. MJ's articles on flight have been featured in several publications and received the Reader's Choice Award from Aviatrix Aerogram for best in humor. She lives with her husband in Lafayette, California.
Highly recommend this book!
"Finding the Wow is right on the money. MJ describes the process of fulfilling her life long dream of becoming a pilot. The struggles, self doubt, hard work, wonder and tenacity it takes to accomplish a life long dream is here in her journey to earning her private pilot license. MJ describes what it is like to face the questions and the criticism from society, family and friends when you are being true to yourself and fulfilling a life long dream. Definitely brings back memories and I would highly recommend it."
— Kathleen Hegenberger, Author
What is the WOW in your Life?
"I loved this book. It was a well told story of her motivation, energy and desire to be more. Humor was spread throughout and the characters unique and interesting. A wonderful read for all women."
— Ronald A. Gorshe
I DID IT!! I got my license.
"It only took 14 months – and 3 instructors but I have it. And the guys says they would love to fly with me as I am a very safe pilot. My lifelong dream of flying is happening. Your descriptions in the book made me relive every second of my flights – as if I was right there with you. When planning for a flight or returning from a flight (which is as often as I can) my feet on not even touching the ground. Next stop – Advanced Ground Instructor and then on to Instrument. To learn – and love flying – I am living my dream!"
Thank you!
— Judi
Don't Wait! Start Living Your Dreams Now with WOW
"MJ beautifully tells the story of her passion, her friends and taking charge of your life's dreams. I thought I was living my dream until Finding the Wow inspired me to dig deeper and discover I still have dreams to pursue. One week after finishing the book, I am taking action. Since I am "mid-life", as are my friends, I have already recommended this book to so many others. Get it today and change your life forever."
— Victoria L. Collier, Author, Songwriter, Attorney
Funny and heartfelt
"Funny and heartfelt, delightful and captivating. When she loses her daily planner and has to buy a new one, MJ Marggraff realizes she can fill it up with all the same committee meetings and other school and household commitments or she can use these blank pages as the opportunity to pursue a life long dream. In this true story, MJ Marggraff successfully brings us into her experience of both what it takes to become a pilot and the transcendent joy of flying. And even more than the story of flying, this is the story of MJ Marggraff's personal journey with its ups and downs, risks, challenges, and triumphs. It is the story of three friends, the Chicks in Charge, supporting each other as they navigate middle age and come to know each other in new and more meaningful ways. It is the story of a wife and mother finding her balance as she adds another job title, pilot. Most of all it is an invitation for each of us to follow our dreams. Since reading this book, I have been revisiting my own childhood dreams. I am inspired to claim the life I want; to engage my own persistence and determination to make that dream come true. And I can't wait for MJ Marggraff's next book to hear where her flying and her dreams take her next."
— Casey Carlisle
Live Your Dream!
"Although I am only in to the first few chapters of MJ's new book, I can say, I have already had so many personal epiphanies. For so many years, I was the Mom with the day planner that was so crammed full of "things that must be done" I had to color coordinate the items to insure the most important ones were completed by end of the day. I could so relate to losing that planner and feeling lost. Then there is the poem about the dragon and I have read and re-read it so many times. Many words of wisdom in that short passage. This book is for anyone who tucked that dream in the back of their mind, thinking it is too late to start the journey – MJ's story shows us it is never too late and I know many people are going to be impacted by her journey. KUDOS!!"
— Amazon Customer
BRAVO!
"You know a book is good when you don't want it to end. This is how I felt when I read MJ Marggraff's book, Finding the WOW! This true story makes you laugh out loud, cry and rejoice. Her emergency landing left me… breathless and her unrelenting courage… speechless. This book will inspire you to revisit your current or long-forgotten dreams and may just give you the extra dose of courage you need to make your dreams come true."
— Tamara Monosoff
I especially enjoyed her very descriptive and funny comments about her plane …
"This is an inspirational true story about a mid-life "soccer mom" who followed her dream to become a pilot while navigating the turbulence from the ups and downs of everyday life. While pursuing her passion, she had to overcome fears, self-doubts, skeptics and chauvinists while allaying the worries of her family and keeping them first and foremost in her life. MJ also emphasizes the importance of having strong friendships to get through thick and thin. I especially enjoyed her very descriptive and funny comments about her plane and her training flights….I felt like I was right up in the air with her!"
— Moose
Five Stars
"As a mother of two teens, I related to MJ's story of being a stay at home mom and volunteering many hours at school. Having teens still in school as well as aging parents I have found myself looking deeper into the subject of chasing your dreams and having no regrets in life. I enjoyed MJ's accounts of her learning to fly and her ongoing commitment to her friends and family. Her story is inspiring and shows that life and dreams are what you make of them. Because of her stepping out of her comfort zone and learning to fly she has opened many doors to rewarding adventures. I very much enjoyed this book and didn't want her stories to end."
— Nancy West
Inspiring to read
"I recommend this book for anyone, young or old, who has ever thought about doing something but can't quite put it into action. MJ Marggraff writes a very heart filled story of taking that giant Leap to pursue a dream of flying. The book is particularly meaningful and relatable as she shares personal stories Of typical family and girlfriend life with all its glories, losses,frustrations and joys. The journey of being up in the air With her as she navigated the airplane was exciting and scary.. Just the way stepping out of the box always is. I look forward to any future books MJ writes as she explores even bigger horizons for herself and for all of us."
— Amazon Customer
She personifies her plane brilliantly; it's as much of a character in the …
"I recently read MJ Marggraff's book, and I found it to be an engaging, poignant, and empowering read. She clearly communicates her message, and her writing style is accessible and easy-going. She personifies her plane brilliantly; it's as much of a character in the book as any other, and the relationship between woman and machine gives the book a lot of color. This book should motivate anyone who sits down with it. Well done! Sequel?!"
— E. Drake
It's never too late to soar!
"What a wonderful and inspiring true story about a extraordinary mother/ woman who pursued her dream to be a pilot! I felt I was part of her journey facing the fears, challenges and feeling the sheer joy of flying with her solo in the sky! I would recommend this to anyone who is stalling with pursuing their passions in life. It's never too late to try something new no matter what age you are! It's is meant for middle aged gals like myself , but I will pass this encouraging book onto my daughter as she transitions from college and pursues her dreams in the the next stage of her life. Thank you MJ Margraff for sharing your unique and engaging story!"
— Robin McCool
Insights entertained us
"MJ shared the 'possibilities' we all have on this tiny blue dot we call Earth. Her humor, story telling and insights entertained us and gave us all reason to ponder the path each of us takes."
— Jay Lifson, Executive Director at Lafayette Chamber of Commerce

Paul Glenda Fillinger
As long-time friends, we are surprised by all the many things you have been doing. With that list of accomplishments you'll have to add "humility"! We just ordered your book from Orinda Books and asked them to have a book signing for you soon. All your local friends would appreciate it!

Lindsey Gaye Walker
Congratulations MJ! I just purchased your book and look forward to reading it. Your video to advertise the book was great!

Lulu Braunstein
MJ! I didn't expect to cry in the first few minutes… I can't wait to read more and am already numbering my dreams in order to see which comes out on top! Game on!!! xxx

Laurey Pacchetti Davis
Did I really get the second to last copy??? Talk about Finding the Wow!!

Barbara Waugh
LOVED LOVED LOVED CHAPTER 1! Can't wait to keep reading. I remember standing next to you at HP-SCD between our two desks after the Challenger exploded. We were all horrified but only you could not stop crying. I now understand why. You were in that capsule with them, born to fly, to 'space out,' to soar! Brava MJ!!! You are flying!!!

Barry McQuain
Hi, Enjoyed reading your teaser of chapter one. Can't wait to read the rest. Well done!

Robin S. Fox
MJ, Congrats on the book launch! This has been an exiting to journey to watch you take. Looking forward to reading the book!

Jim Marggraff
MJ, Congratulations on a dream within a dream! You've captured a flow of poignant and funny moments about family and friends, and directed them into a motivating and inspiring personal story. BRAVO!!! Thanks for this, and all you do, to help all of us realize our dreams!

Debbie Campbell
MJ, I just read the first chapter and can't wait to read the rest! You are remarkable!

Robin McCool
MJ, I just read the first 19 pages!!! It's a FANTASTIC read and I can't wait to continue on!!! All I can say is WOW!!! You have TOUCHED the STARS!!! Your sharing of this book will help others!!! Also, I believe there are more exciting chapters in store for you!!! With GREAT admiration, Xoxo, Robin