To all my readers, it is not a shock to hear me say that the best experiences of my life have come to me when I left my comfort zone. When I was a "stay at home mom" and I decided to take flying lessons I knew there'd be some uneasiness but the joy of flight was exponentially greater than my fears. When I was finally a pilot and decided to pursue my dreams further to work in the field of space, the challenges were great but the rewards of seeing my concept of GravityGames actually played aboard the International Space Station was a feeling of wonder that I could not have imagined! The experience I enjoyed last week, was appearing on a two hour LIVE daytime talk show for the Hallmark Channel; and, the anxiety I felt prior to taping was all but erased by the absolute fun and excitement I had on the Home & Family show!
SHARING TWO STORIES — FLYING AND THE DAY AT HALLMARK
First, I met the most amazing crew and TV personalities including the hosts, the lovely Debbie Matenopoulos and the warm Mark Steines. Everyone involved with the production made me feel so at home – and since the set is in an actual house setting, it really worked!
Then, I sat on their couch in the living room set and got to share my story of transformation. There were other guests on the stage with me as well and they asked me great questions about why I decided to change the direction of my life at 45 and the advice I'd give to others who might want to make a major course correction in their own lives. I got to share with an audience of millions what I wish someone shared with me 30 years ago – to follow your passions and that you CAN achieve your dreams. Age IS just a number and I truly believe that if you have something in your gut that you have always wanted to try – it doesn't have to be flying it could be – learning a language – there is no reason not to go for it! I went from pilot to space when I was in my fifties! Trust yourself and trust me – you CAN do it.
EATING: COAST TO COAST
As I mentioned that I had some discomfort about being on television and my anxiety increased when I learned that I wouldn't JUST be interviewed for a few minutes, but rather I'd be featured in all their segments for the entire two hour program! SO the next bit I partook in was their cooking segments! I noshed on snacks for Super Bowl parties – coast to coast?! The environment was such that we all were just having such a good time and I truly enjoyed the people on stage with me and having the great Chef Meredith Laurence bake amazing sticky buns for me was a rare treat that I might never have enjoyed had I not just said 'yes!'
FASHIONISTA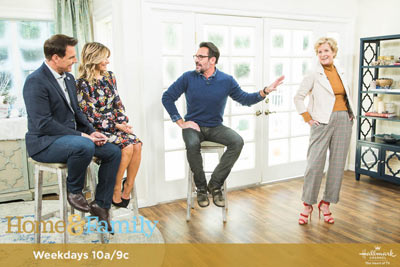 Folks, I am not one for makeup and frills, but yes, I gave in and agreed to do a fashion makeover segment!? Never in my wildest dreams, would I think that could be a pleasant experience for someone who really keeps her wardrobe to jeans and t-shirts, but we find the most remarkable things where we least expect them.
I got a fashion makeover from one of the best style experts in the business, Lawrence Zarian. He determined that I wear heels despite my warnings that nosebleeds may occur at their high altitude. He told me that I could still be me but elevated a bit. Let me tell you, I rocked my look!!! New pants, new shoes, new top, new jacket, new jewelry and the most amazing thing about it all was that I was very comfortable in this new look. I felt stylish, but I felt authentic. I even wrote down all the brands and sizes so I could pick them up later!
Friends, if you have a moment, there's a clip from the show in my video section and I hope you watch and enjoy it as much as I enjoyed doing it. Let's all make a point to keep pushing our limits – big or small – because the results can be very surprising!
MJM
2-5-18