'Finding the Wow' Is a Rally Cry for Following Dreams
By Carol Douglass, Santa Barbara Independent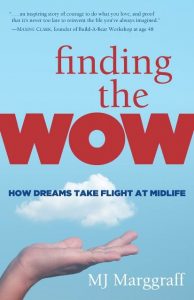 You don't see it coming, but one day there you are — in your forties and wondering what happened to your youthful dreams. When M.J. Marggraff, author of Finding the Wow: How Dreams Take Flight at Midlife, faced that midlife challenge in 2003, she knew it was time to put her overcrowded weekly planner aside and chase her lifelong fantasy of becoming a pilot.
Published in 2016, Wow chronicles Marggraff's adventures from flight school — she's the only woman and the oldest person in the class — to joining the just-over 5 percent of female pilots in the U.S. Marggraff approaches her undertaking with diligence, assuring she is always prepared for the task at hand. She's barely through the Airplane Flying Handbook though, when suddenly she's climbing into an actual plane with her instructor, with an equal measure of trepidation and thrill.
In addition to the demands of becoming a pilot, Marggraff has to contend with the restrictions of being a wife and mother. For example, some of her friends disapprove of her following her own interests outside the home and it seems she feels the need to ask her husband for permission to take flying lessons, which is surprising considering it was 2003. Still, Marggraff's determination is admirable and she does get the support of her husband and kids.
Finding the Wow is best when Marggraff describes her excitement at finally flying a plane. When her son wants to know what it is that's taking so much of her time, she expresses it this way: "I feel myself leave Earth, rising higher and higher, while everything familiar and below gets smaller. The rivers, all the cars…the roads are black snakes. The mountains share the air at my level. I am circling in wonder and grace. A sense of forever. Of infinity.