Soul Sustenance: Finding The Wow
Feature on Motherhood Moment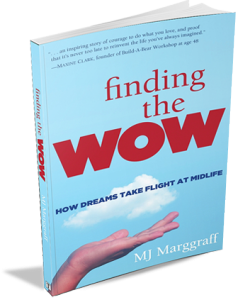 Twelve years ago a 45-year old PTA stay-at-home mom of two lost her day planner. It was a change that fueled an incredible journey of drive and self-discovery as she decided to follow her dreams resulting in a midlife mom turned astronaut.
MJ Marggraff is a San Francisco woman who decided to pursue her childhood passion late in life, and learn how to fly. Now, in her early 60's, she's a flight instructor, an astronaut, and an author. She's a project leader on an experiment headed for space this year and wrote a new book in May, "Finding The Wow."
I had a chance to interview her to learn more.
How did you go from losing your day planner to preparing for space flight?
Flying was a childhood dream that never left me. I always loved airplanes and space and the stars. As a little girl I checked out space books from the library, drew unusual planets, and watched launches. Whenever I could, I took rides in small planes from local airfields. But I came from a family of terrified air travelers who guided me away from the sky and suggested I pursue more acceptable careers, like teaching and nursing. Many of us have dreams that we pack up and leave in the attics of our childhood memories and never visit again. I thought that had happened to mine too.
Over the years, I was in corporate management positions and though I was successful, was not doing what I really loved. I wondered: Even if I had the willingness, did I have the ability to learn to be a pilot? Maybe it was too late. Maybe the parade had passed me by.
When our children were 5 and 3 years old, we moved from Massachusetts to California. I left my corporate work while my husband Jim pursued his new inventions, stayed at home with my children, and maintained an active, full, and busy schedule. I'd cross off each thing I'd done each day with a bold stroke of the pen and with relish—done—yes! Another thing! Done. But, was it enough to be busy? It was more of an 'addiction' to busy-ness: car pools and after school sports and dance classes and PTA meetings.
Then one day I awoke to discover that I'd lost my pen and paper planner. I was terrified. After all, it defined what I did, when, and with whom. It defined who I was. Mine had a full schedule of things for me to do. What was on it that I hadn't checked-off? On the other hand, it was also an empty schedule too, because there was not much inside it with gusto—for me.
I picked up a fresh, new, clean planner; thumbed through it—a blank slate. I could refill it with the same routine. Or—I could rewrite it with a dream. Could I keep the essential family stuff going and add an essential activity of my own? I was terrified to even consider it. I was 45. What kind of mom goes to flight school? Come on. After much hesitation, I finally enrolled.
At first just getting the initial pilot's license was enough to satisfy my new life, just that one. But at that time, in 2003, suborbital space flight tests had begun. It was announced that one day civilian astronauts will go to the edge of space and see what only astronauts have seen, the Earth and its pale blue halo against an inky sky filled with stars. That resonated with me, like cosmic poetry worth seeing. Maybe I could be a "near Earth" suborbital civilian astronaut.
One pilot's license was not enough. After eight years as a part-time flyer and a full-time mom, I earned five licenses, including that of flight instructor. Soon after starting to teach, another door opened. I became a mission support representative to a space agent for Virgin Galactic, trained on a simulator for suborbital flights, and when the flights are ready, will one day go to the edge of space.
What surprised you the most as you reached for your dream?
I was constantly surprised by new experiences. What I wondered the most was how it could be possible to fly solo, to have the controls of an airplane fully mine to manage. But then, I'd been learning how to be a mom each day too, day-by-day. It's really just that with anything; taking small steps and not giving up.
Prior to learning to fly, I thought all pilots were born with the right stuff, knew they had it in them, and just went for it! But I was very motivated and willing to learn about everything: the airplane, the sky, the weather, the rules and the thousand other connections. The more I learned, the more I grew into the new requirements to be a pilot. I didn't know I was capable of expanding to such a great extent, and at midlife too.
What was the biggest hurdle you had to overcome?
The biggest hurdle was to break the habit of fear. I was afraid of negative outcomes: What if I don't get it? What if I something breaks? What if … I was certain that loss would come about and would certainly far out-weigh the slim chance of the gain from something good. Fear was the biggest hurdle to what I wanted to do, and would have made me quit before I got started. When I found out how to fight back, I learned the biggest lesson in my life. I found out that what I feared was what I didn't know. What was holding me back was my reaction to the unknown, and everything is initially unknown. So I learned everything I could for each lesson and each flight. The more I learned, the less afraid I became. Breaking out from under fear's grip has shown me what it really means to live, and to do what I love. It is also a very powerful feeling.
Still today, I keep a little fear with me when I fly. A little fear keeps me on my guard so I stay aware of what might happen. A little fear keeps me humble. The sky can be glorious and I have learned that it is also a tough teacher.
Why is important for us to find our "wow?"
The "wow" is doing what has meaning and purpose for you. It is living and experiencing the intense joy that comes when you do what you love. Midlife, an age I once thought was a time to turn away, turn down, and lock the door to old dreams that hadn't been claimed by then, has become a time for my 2nd Act. It can be yours too.
Dare to dream, and dream big. Live the life you always imagined and amazing new paths open. Paying it forward is now my focus. As creator of a breakthrough experiment, I work with a company with a leading edge technology for space and lead a team of innovative students who are making the first new products for space. That project, Space Games, is on the International Space Station today and will be conducted by the astronauts in the months ahead. Space Games, in a test phase, may open doors to many other students who may one day make new structures for the Moon and Mars. It's very exciting for us all who are building a path to our future in space.
I am most grateful to a lost planner. It had done more than disappeared. It dared me to take a major course correction that changed my life completely, and is changing the lives of others too.
Available through Amazon books.
(Amazon #1 New Release.) www.findingthewow.com